Visited Kyoto twice so far, and it is still one of my favourite cities in Japan. First visit was with my family on our first trip to Japan. We got in Kyoto by train from Osaka, and did only a day trip. Second visit was with Walid, and because I already knew how much we would enjoy this tranquil and culturally rich city, we stayed for 3 nights.
Kyoto is the previous capital of Japan (currently Tokyo). I love both cities, and honestly am not sure if I can yet pick a favourite between the two.
Tokyo is vibrant, colourful, eccentric, modern; the vibe and feel even just a Metro station away can be so different !
Kyoto, on the other hand, is slightly less busy (do not get me wrong, it can be still full of tourist crowds) but it is much more culturally rich, low rise buildings, and much more of nature.
If you ever do decide to visit Kyoto, I highly recommend staying at least 3 nights !
---
Getting in
Kyoto does not have its own airport, the nearest is Osaka which is served by two international airports, Kansai and Itami.
From Osaka
The easiest way to get in Kyoto is by train. From Kansai International Airport, take the Haruka Limited Express which takes 75 minutes to reach Kyoto.
Tip: A normal Haruka Limited Express ticket costs 2,850 yen (26 USD). You can save 500 yen by getting a JR West Kansai pass (only for tourists, and you need to present your passport). And if you have not heard of Klook, you must check it out! You can get the JR West Kansai 1 day pass for RM 88 (21 USD). Feel free to use my referral link for extra travel credits!

Bus from Kansai to Kyoto will cost you about 2,500 yen (23 USD) and takes more than 1.5 hours. For a few dollars more, you should just consider the train, for time and better comfort.
Note: JR West Kansai pass DOES NOT include Shinkansen (bullet train). Only the JR (whole Japan) pass (which comes in 7, 14, or 21 days) can use the Shinkansen. You can get your JR pass from Klook from 271 USD. They are currently running a promotion for 7 days JR pass PLUS Japan 4G sim card for only 267.60 USD ! I have used Klook plenty of times and it is very easy, convenient, and reliable.
From Tokyo
For my second visit, we took the Shinkansen from Tokyo to Kyoto. Using our 7 days JR pass (which FYI excludes Nozomi, the fastest bullet train of all Shinkansen), we took the Hikari train, which has slightly more stops, taking about 2.5 hours.
Alternatively, you can also take the bus, which is of course much cheaper. The drawback is that you cannot make an online reservation in English. The journey from Tokyo to Kyoto takes about 7 to 9 hours, and will cost you around 6,000 to 9,000 yen (55 to 85 USD).
---
Getting around
Bus is the most convenient mean to get around the city. The bus fare is standard 230 yen per trip, and exact change is required. Alternatively, you can get a one-day bus pass for 600 yen (5 USD), which is justified only if you plan to take more than 3 bus trips per day.
Other options include Kyoto Sightseeing Card, 1200 yen for 1 day, 2000 yen for 2 days, for unlimited travel on subway and city bus; and Traffica Kyoto Card which is a stored-value card of 1000 or 3000 yen, can be used on subway and city bus.
Getting to some of the popular travel destinations outside of the city, you will need to take the train. JR trains take you to quite a few places (e.g. bamboo forest of Arashiyama), so if you have a JR pass, you can board the JR trains for free.
Otherwise, Keihan train is another popular one if you plan to visit the torii (orange colour shrine gates) of Fushimi Inari, which of course you must see ! A one way trip from Kyoto to Fushimi Inari costs 210 yen (2 USD).
Link to official Kyoto train and subway map
---
Where to stay
Kyoto is extra special to explore on foot. Strolling along back alleys, exploring off the beaten path, discovering small gems like shrines, businesses, eateries etc. As such, I highly recommend staying within the city, somewhere you can comfortably access by foot to where all the actions are.
For my second visit, we stayed in Kotoha Kiyomizu Guesthouse, 300m walk from the main road, and about 15 minutes walk to Kiyomizu-dera temple. In Japan, I prefer staying in Airbnb, and guesthouses. Not only do you get more space given the same price if you were to pay for hotels, but I also prefer that they often come with washing machine and/or kitchenette.
---
What to do
Of course, there are a lot temples to see in Kyoto. But, I assure you, they are all very different and unique, you are going to enjoy every single one of it !
Kiyomizu-dera temple
Literally translated as Pure Water Temple, Kiyomizu-dera is a Buddhist temple. It stands strong on wooden stage 13 meters above the hillside below. The main hall was built without the use of nails ! Admission 400 yen.
The "pure water" of Kiyomizu-dera comes from Otowa Waterfall, located at the base of the main hall. It was believed that drinking from these streams has different benefits, namely longevity, success at school and good love life.
Before the main hall of Kiyomizu-dera, there is Zuigudo Hall, which was dedicated to Buddha's mother. Inside you will need to find your way through this pitch-black basement, by holding on to a rope for guidance. It is thought to symbolise the womb. At the end of the basement, you will find a stone, and it was believed that touching it can grant you fertility.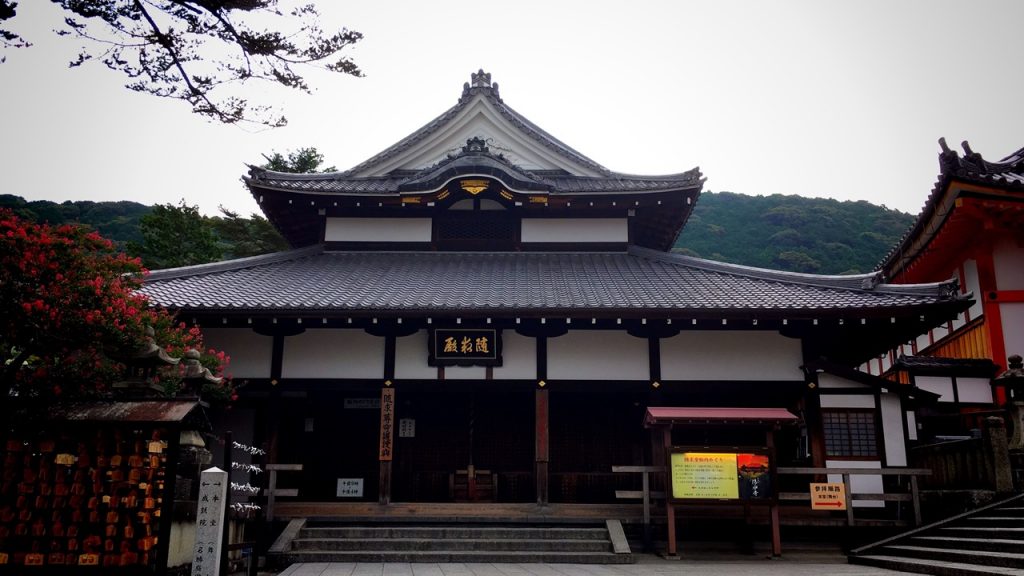 Another famous attraction within Kiyomizu-dera is Jishu Shrine, which was dedicated to the deity of love and matchmaking. In front of the temple are two stones about 18 meters apart. It was believed that if one can walk from one stone to the other blindfolded, you will find your true love. You can get help from your friends along the way while blindfolded, and it means that you will need help finding your true love.
Yasaka Shrine
A shinto shrine well known for its summer festival, the Gion Matsuri in July, which is considered one of the most famous festivals in the whole of Japan. Free Admission.
In front of the dance stage, hundreds of paper lanterns are lit up every evening. The lanterns bear the names of local businesses that donated.
Kinkakuji, North Kyoto
Also known as the Golden Pavilion, Kinkakuji is really an impressive sight. Entrance into the temple is not allowed, for obvious reasons, but it still takes a great shot from all vantage points ! Admission 400 yen.
Kinkakuji is even more magical in winter !
You can reach Kinkakuji by bus 101 or 205 from Kyoto station. It costs 230 yen and takes about 40 minutes one way.
Alternatively, you can take the subway to Kitaoji station (260 yen, 15 minutes), or JR train to Saga Arashiyama station (free with JR pass, 15 minutes), but for both options, you will still need to take another bus (230 yen) to reach Ginkakuji.
While you are at North Kyoto, you want to also visit Ryoan-ji temple (500 yen), which is famous for its 15 rocks garden. It is such a serene and peaceful temple. The zen atmosphere makes even the most touristy of foreigners shut up and just sit quietly on the edge of the floor, looking over the garden of 15 rocks.
Ginkakuji, East Kyoto
Also known as the Silver Pavilion, but ironically it is not silver in colour. Although the temple is not as mesmerising as its Golden contender, I personally think Ginkakuji temple ground is much prettier ! Admission 500 yen.
You can reach Ginkakuji by bus 5, 17 or 100 from Kyoto station. It costs 230 yen and takes 35 to 40 minutes one way.
Fushimi Inari, South Kyoto
Another must-see when in Kyoto, you may recognise it from photos capturing thousands of orange colour (torii) gates. Fushimi Inari is an important Shinto shrine dedicated to Inari, Shinto God of rice. The thousands of torri gates leading all the way to the top of the sacred Mount Inari, were donated by individuals and companies, which are engraved at the back of the gates. Free admission.
All around Fushimi Inari, you will see statues of fox (Komainu), always in pairs and seated on each side of a shrine's entrance. Foxes are believed to be messengers of Inari. You can even buy yourself a cute Komainu souvenir. I got myself a fridge magnet with a Komainu sitting in front of a torri gate !
Check out my previous post on how to take nice photos amidst the crowds at Fushimi Inari !
While you are at South Kyoto, you want to walk around the small town, and perhaps check out Tofukuji temple, another enormous Zen Buddhism temple.
You can reach Fushimi Inari by JR train from Kyoto station. It costs 150 yen (or free if you have JR pass) and takes 5 minutes one way.
Arashiyama, West Kyoto
Another popular destination in Kyoto, you want to get here as early as 7:30 am if you want to avoid the crowd.
However, what most people do not realise is that Arashiyama has much more to offer besides the bamboo forest. Beyond the bamboo forest, if you continue to hike uphill for another 30 minutes, you will reach Otagi Nenbutsu, where you will find 1200 laughing statues of rakan, devoted followers of Buddha.
Another beautiful attraction, the garden within the Tenryuji temple ground is said to have survived centuries in its original form. The entrance fee to garden only is 500 yen, an additional 300 yen to enter the building.
And of course, it is most pretty in Autumn !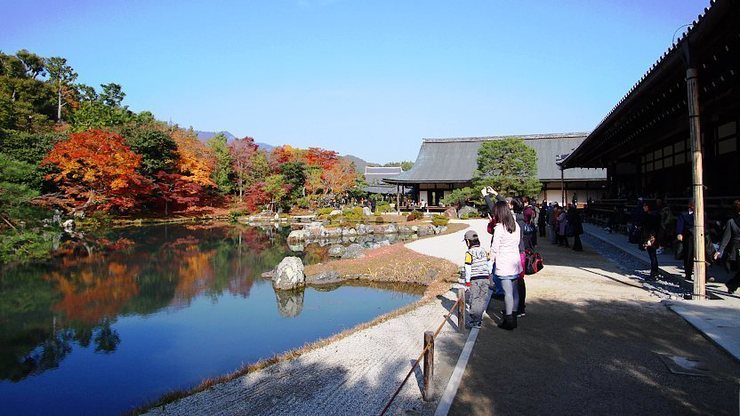 Gion district
I kid you not, there are so much explore to by just walking around Gion district ! In the evening, you can spot a lot of geishas walking in this area.
This slideshow requires JavaScript.
---
What to eat
Kaiseki
Kaiseki is a traditional Japanese dining experience with multiple courses, often a test of the chef's knowledge in using fresh seasonal ingredients, skill in executing and creating delicious dishes, and lastly creativity to plate them delicately and beautifully.
There are affordable options, starting from 3000 yen (USD 46) for kaiseki lunch, and also more luxury options, which can cost above 16,000 yen (USD 148) for a 3 Michelin stars kaiseki dinner.
Kaiseki (3000 yen) from Nichigetsuan 日月庵.
Kyoto is famous for tofu (beancurd), in fact, they are obsessed with tofu ! With that, you should try Tofu Kaiseki, and you will be surprised by how many variations they can make out of tofu !
This slideshow requires JavaScript.
Tofu Kaiseki (starting from 5000 yen) from Tousuiro.
During my second visit, we treated ourselves with a fancy dinner kaiseki at 3 Michelin stars Kokunoi !
Udon
Myodai Omen Kodai-ji is known to have the best udon in Kyoto. The original Omen is located near Ginkakuji. It has a branch near Kiyomizu-dera.
Nishiki market
When in (any city of) Japan, you want to check out the local market. You can be sure to find the freshest catch (sushi and sashimi), and also bento (ready to eat meal box).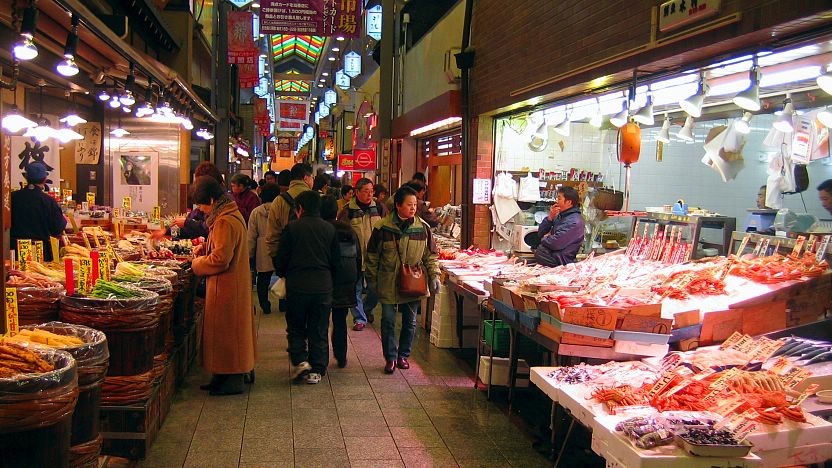 Everything Green tea
Kyoto being the home of green tea and matcha, there are plenty varieties of this delicacy, e.g. ice cream, mochi (sticky desserts made of glutinous rice, corn starch sugar, and water), cake, latte etc.
Yatsuhashi
It is cinnamon confectionery, and makes really nice Kyoto souvenirs. You can get them as mochi or hard biscuit.
% Arabica
Of course, if you are a coffee lover, you must visit this birthplace of % Arabica !
---
Getting out
Nara
From Kyoto, you can easily reach Nara on the JR Nara Line Rapid Service, which takes about 45 minutes. Nara Park is famous for one thing, deers ! There are more than 1500 deers living in the park. The deers are considered sacred, and killing of a deer used to be an offence punishable by death. Today, one can still be imprisoned for killing deers.
Note: Feed deers only crackers sold by approved vendors. DO NOT feed them ice cream, as much as they want it !
CAUTION: The deers are not tamed, and hence can be violent. There are hundreds of people injured by these deers. Most of them are tourists who teased those deers while feeding them. Be vigilant and just do not agitate them.
Todai-ji temple is a Buddhist temple, also once one of the powerful seven great temples. It houses the world's largest bronze Buddha statue, known as Daibutsu.
One famous attraction inside the hall is this pillar with a hole at the bottom, the size of Daibutsu's nostril. It was believed that whoever can squeeze through this hole will be granted enlightenment in their next life.
Kobe
You can reach Kobe town by Shinkansen under 30 minutes. It costs 2860 yen (26 USD) one way, free if you have JR pass. Alternatively, you can take another JR special rapid train (Tokaido line) which costs 1100 yen (10 USD) and takes 50 minutes one way.
I never got to explore Kobe town, only managed to make the trip there for Kobe beef dinner ! We were contemplating whether we should spend the one evening, travel to and fro Kobe, just to eat Kobe beef ! And boy, we did not regret one bit !
You cannot get Kobe beef any cheaper than in Kobe town. Even in Kyoto, you have to pay about 50% premium, double the price if in Tokyo !
Kobe beef service is usually over a teppanyaki counter. You will get a dedicated chef, and he/she will cook your meat in few batches as you eat. Our chef had us tried pairing of different sauces and condiments (salt only, the best homemade mustard sauce, wasabi, garlic chips etc), as well as different doneness for different cuts. The whole experience was heavenly. No other beef in the world can ever make up to this experience !
If you can take beef, love beef, seriously consider setting aside budget for this out of the world experience ! Ishida Kitanozaka's Kobe beef lunch starts from 9800 yen (90 USD), dinner starts from 12900 yen.
Tip: Highly recommended to make a reservation in advance. We did not and almost had to return to Kyoto devastated. Fortunately, we managed to find one restaurant with a cancelled booking.